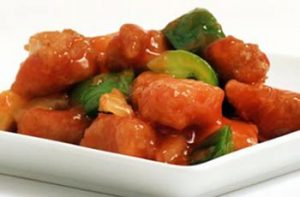 Sweet and sour chicken (甜酸雞) have come a long way since their origins hundreds of years ago in China (which tasted vastly different than the sweet and sour dishes of today). But one thing remains: the secret is in the sauce.
Ivy's Garden gluten free sweet and sour chicken (two-servings per package) has a tasteful blend of chicken, pineapple, green pepper and onion in a tangy rich, sweet and sour sauce that originated from a family recipe. Enjoy it with your family and friends. They'll never know it's gluten free.

Frozen Shipping
Because these are frozen items, please note:
• We require a minimum order of 4 boxes
• Items are shipped via 2-day UPS Ground
• Deliveries will be made to your doorstep; please make sure you receive the package on the first delivery attempt. Contact us directly with any special requests. For more details, please see our "Shipping Policy".