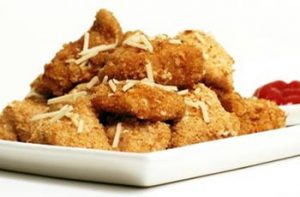 Our chicken nuggets (two-servings per package) start with high quality, local, natural white chicken meat, cooked with a gluten free bread crumb mix and flavored with a mild parmesan cheese. Throw in seasoning and gluten free breadcrumb and you have a tasty, convenient dish. And don't bother your kids or friends with the details (like the fact they're gluten-free). They'll never know.

Frozen Shipping
Because these are frozen items, please note:
• We require a minimum order of 4 boxes
• Items are shipped via 2-day UPS Ground
• Deliveries will be made to your doorstep; please make sure you receive the package on the first delivery attempt. Contact us directly with any special requests. For more details, please see our "Shipping Policy".